Video Collage – DIOR Dolce Vita
Dior asked us to help them in the production of a 45 second playful mixed media video (or video collage) to highlight a summer theme common to its perfume / make-Up / skincare product line: La Dolce Vita! The Italian capital is the chosen destination and the atmosphere to convey is a stroll around an iconic square in the city. We feel this Dolce Vita through a lifestyle of the iconic elements of Rome, twisted in a fun and playful way.
It was also important in the objectives of this film to convey the universe desired by the brand – concerning the color codes and merchandising, as well as the pop and playful atmosphere of the products selected for this animation. Twisting the visuals of statues and columns, incorporating the iconic Vespa, delicious gelato, café terraces, typical streets, and the Trevi Fountain.
Given the need, the decision to process this video using Mixed Media Animation (or video collage animation) seemed obvious to us. This form of animation brings together elements from real photos, videos, illustrations, and magazine cutouts, all of which are blended with graphics and specific effects using various animation techniques. It combines the richness of a static collage with the vibrancy of animation, creating a multimedia spectacle that fascinates and intrigues.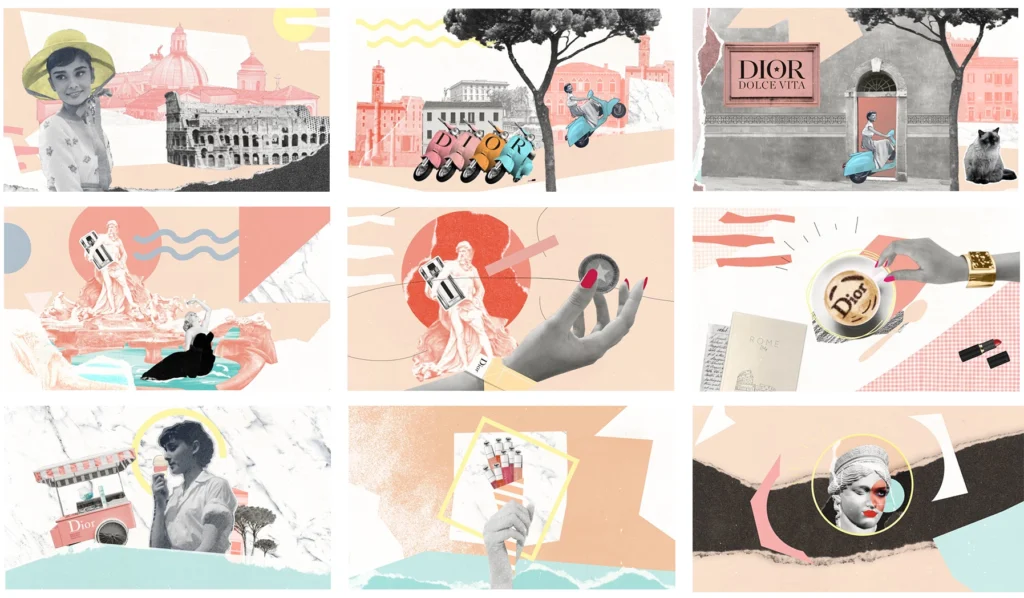 The popularity of video collage animation has surged in recent years, thanks to its versatility, flexibility, and limitless creative potential. It's not just an art form — it's a medium for storytelling, capable of recounting complex narratives, stirring emotions, and captivating viewers with striking visual appeal.
Widely shared on the brand's marketing platforms, this video, adapted in various formats including vertical and square, has been widely shared on social media. These engaging collage animations can create a strong impression in the Stories or Reels section of Instagram. On Facebook, a collage animation can work as part of an advertisement or an interesting post on a brand page.