THE LAST SHOT – 2D Animation
In this video, we combined the mesmerizing atmosphere of the American West with the intensity of a clay court tennis match, as seen in the finals of Roland Garros (also known as the French Open). The discussion that led us to this idea revolved around what goes through the mind of a tennis champion when serving for the match?
After choosing the artistic direction, and working on the character design and color palette for this film, we created a detailed, hand-drawn storyboard to organize the different scenes.
Through the adept use of traditional 2D animation (Cel animation), we brought this unique world to life, creating an immersive experience that engages the audience at the heart of a fierce competitive battleground. The combination of the western aesthetic and the clay court setting allowed us to craft a visually striking and emotionally charged narrative.
The meticulous attention to detail in our 2d animation work ensured that every frame was imbued with the passion and energy of both worlds. Using After Effects for compositing, we seamlessly merged western and tennis elements, transitioning between them naturally and compellingly. This artistic approach amplified the overall impact of the video, leaving viewers spellbound by the harmonious fusion of two seemingly disparate themes.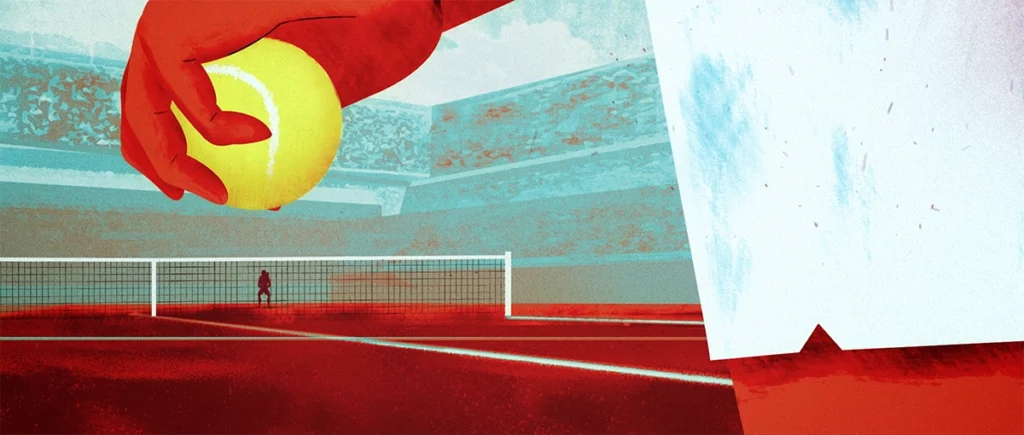 To complete the visual experience, we collaborated with our music and sound design team to craft a custom-made soundtrack. Here again, we aimed for a blend of the unique sounds of the western genre with the suspense emanating from a stadium like Roland Garros or Flushing Meadows at match point. This music added a dynamic and emotional dimension to the film, intensifying the sense of competition and drama.
We are proud to share that our creation received a "Vimeo Staff Pick", the ultimate distinction from the global video hosting platform Vimeo, which testifies to the innovative narrative, artistic vision, and technical expertise invested in the project. This acknowledgment validates our dedication to producing exceptional and distinct content that resonates with audiences worldwide.